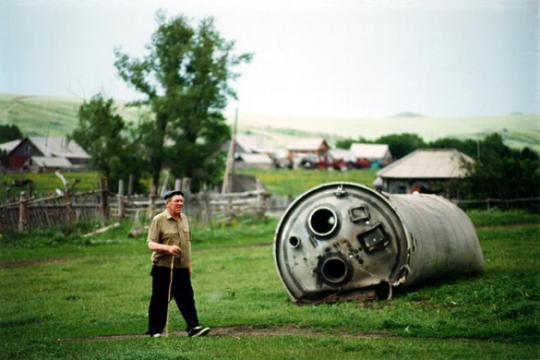 On April 16, 2002, Russia announced that it would henceforth launch military satellites at the Pletsnesk cosmodrome in northern Russia, ending the practice of launching satellites from the Baikonur Cosmodrome in Kazakhstan. This shift will deprive Kazakh children of the chance to watch some satellites take off, though Baikonur will remain the launchpad for commercial "birds" and manned missions. It will also spare Kazakhs the fallout, literal and otherwise, that occurs in a launch's wake.
All space-bound rockets consist largely of fuel tanks and booster stages that fall back to earth when spent, never reaching orbit. In landlocked Baikonur, Russia's primary launching complex in Kazakhstan, these spaceships crash to earth. people living under the flight paths must contend with flaming spaceship wrecks several times each month.
Apart from the fear of having a spaceship crash through their roofs, residents in the area complain of the ill effects of leftover toxic rocket fuel. With the relocation of Russian military launches, more than half of which currently take off from Baikonur, these people may get some relief. However, one group of people is probably sorry to see Baikonur lose business -- the region's scrap metal dealers are getting rich trading metal from the rockets' titanium alloy hulls.
Editor's Note:
Jonas Bendiksen, a freelance photojournalist, and his wife Laara Matsen, a photo editor, are based in Oslo.